Tawaramoto internal Medicine and Diabetes Clinic
Greetings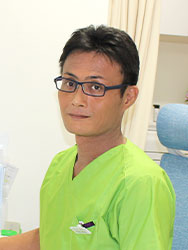 Thank you for visiting our clinic's homepage. I am Kazuhito Tawaramoto, MD, PhD, the director of this clinic.
I am pleased to commence medical practice at our newly opened clinic in Takarazuka City from October, 2019.  We provide cutting-edge medical care for general internal medicine diseases and metabolic diseases, including Type 1 and Type 2 diabetes mellitus, dyslipidemia and obesity.
I understand patients' concerns about the health care and medical treatment they receive. At our clinic, we are ready to assist and advise you. Please do not hesitate to visit for consultation.
Medical Conditions treated at this clinic
A. General Medicine
Common colds, Acute respiratory infections, Flu, Diarrhea, Vomiting, Acute colitis, Urinary infections, and others.
As an internal medicine specialist, accredited by the Japanese Society of Internal Medicine, I offer every patient with symptoms of any of the above the latest examination procedures and treatments. Our clinic has its own in-house blood examination instruments, X-ray equipment and electrocardiogram machines. Immediate examinations can be offered and appropriate treatments can be determined for every visitor. Patients seeking specialized medical facilities for their further treatment can be given referrals to the facilities they prefer.
B. Metabolic diseases
Type 1 Diabetes Mellitus, Type 2 Diabetes Mellitus, Dyslipidemia, Obesity, Hypertension, and others.

Metabolic diseases, including Type 1 DM, Type 2 DM, Dyslipidemia and Obesity, are chronic disorders affected by life-style and are known to increase the risk of atherosclerosis, myocardial infarction and brain infarction. Appropriate diet and exercise therapy should be offered for every metabolic disease patient to ameliorate their metabolic conditions. Additionally, drug therapy plays an important role in improving every patient's status. At our clinic, we can evaluate present glucose and lipid tolerance through blood examinations. For those concerned about their metabolic status, we are able to do an analysis within 20 to 30 minutes.
We also provide oral anti-diabetes therapy, insulin injection therapy and self-glucose monitoring system devices at our clinic.
Notifications
Things you have to bring with your visit
Your ID card (including Drivers license Card, Passport and Residence Card)
Japanese Public Health Insurance Card
Address
1-11-1 Sakasegawa, Takarazuka, Hyogo
First Floor, APIA2
Tawaramoto Internal Medicine and Diabetes Clinic.
Tel: 0797-62-6221
HP: http://tawaramoto-cl.com
Web reservations available